Services
We provide one stop turnkey solution for various fire protection systems from system design to commissioning.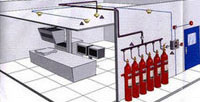 We design fire extinguishing system and detection system as per IS Codes, National Building Codes, TAC rules & regulations, Oil Industry Safety Directorate Guidelines, NFPA standards and FM standards.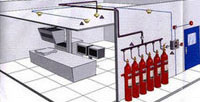 We have strategic partnership with various suppliers for fire suppression equipment etc. Our project management team coordinates well with design team and procurement team for smooth delivery of supply and installation of systems. We have trained and experienced site management staff as well as resourceful sub-contractors for site work.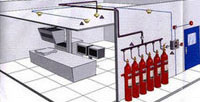 Our trained engineers to undertake testing & commissioning of fire system Work to be done to check the adequacy of the system as per requirement and contractual conditions. The fire system will be handed over to the customers after ensuring proper functioning of fire system.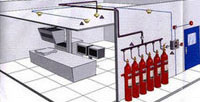 Site team conducts safety induction training for site staff, inspection on tools & equipment, daily patrol on quality & safety of work and housekeeping at work location/site office/material storage. In addition, project management staff from Head Office periodically visits project sites and conducts safety and quality audit. The result is properly recorded and reported to management.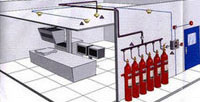 Manufacturing Plants
Power Plants
Oil & Gas Plants, Refineries
Airports / Seaports
Railways / Metro
High Rise Building, IT Parks
Warehouses
IT / Banks
Hotels
Hospitals
Exhibition Centers,etc.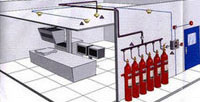 We assist in minimizing loss from fire by analysing fire risk in facilities based on know-how accumulated in fire testing. Our expertise who knows detail of codes & standards supports making project specification for fire protection systems. We also conduct site survey and provide solution to improve existing fire safety systems in customer's premises.
We conducted site surveys at :-
A major car manufacturing company for existing foam system in its paint booth
Auto parts / Tyre manufacturing companies for existing fire protection system & detection system (Awarded a renewal work for fire alarm system after the survey and proposal)
Sanitary product manufacturing company for existing fire detection system (Awarded a renewal work for fire alarm system after the survey and proposal)
Government office for existing fire alarm system (Awarded a renewal work for fire alarm system)
A major LNG terminal for existing fire protection system