Emergency Evacuation Plans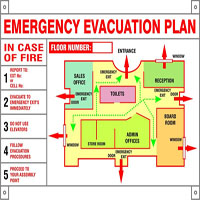 Emergency Evacuation Plans :-NowHospitals & restaurants, kitchens, schools, Auditoriums, residential buildings, High Rise Buildings, offices, factories and warehouses, server rooms, hotels, paint booths, data Centres, Steel Plants, Power Plant, server room, Office and Commercial Complexes, Electrical Panels, Physics Laboratories, Gas plants,
Having an evacuation map is not just a good idea, it's required by law to meet most local fire codes. The purpose of an Emergency Action Plans is to facilitate and organize employer and employee actions during workplace emergencies. Well-developed emergency plans and proper employee training (such that employees understand their roles and responsibilities within the plan) will result in fewer and less severe employee injuries and less structural damage to the facility during emergencies. A poorly prepared plan, likely will lead to a disorganized evacuation or emergency response, resulting in confusion, injury, and property damage.
Vinayak Fire servicesNecessary Elements to show in emergencyEvacuation Map :-

• The basic layout of the property including walls and doors.
• The starting point. "You Are Here".
• The compass.
• Exit points.
• The marshal area.
• Fire extinguishers.
• First aid kits and stations.
• Other important elements. Eyewash stations, stairways that lead out of the building, and other safety stations that might be specific to your industry or business.
We Vinayak Fire servicesis Designs, different types of fire and emergency plans and schemes :-

• Evacuation plans
• Home Emergency plans.
• Office Emergency plans
• Fire safety diagrams
• Fire Exit plans
• Fire Emergency plans
• Fire Evacuation plans
• Business Emergency plans
We "Vinayak Fire services"offers designing, supply, Installation Fire exit plans which is used in hospitals, hotels, business centres, metro, airports, schools, etc. Power Plant, Refineries, NTPC, National Thermal Power Corporation, Metro Stations, Coal Mines, server room, Cabinets, Office and Commercial Complexes, Electrical Panels, Physics Laboratories, Gas plants, Cold Rolling Division, Physics Laboratories, Corridor of modern office buildings, Computers Rooms, Airport Terminal, Concession Trailers, FM Global approved Projects, Residential Apartments, Major Industrial Projects , Archives and Libraries , MNC Companies, Studio, Paint Rooms, .Mobile shelters, Turbine Rooms, DG Area, DG Rooms, IT Centres, Any Hazardous area .